Our School

Welcome to Grace Christian Academy (GCA) in Falls Church, Virginia. We are a Junior Kindergarten (age 4) through 8th grade private, Christian school, located in Fairfax County, just minutes from the District of Columbia. GCA was established in 1973 and serves a diverse student body. Grace Christian Academy is a part of the Wisconsin Evangelical Lutheran Synod (WELS) - one of the largest private school systems in the country.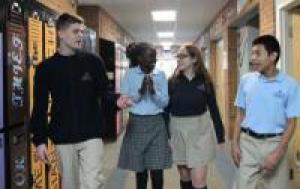 (photographs taken before Covid)
Why does GCA exist?
At Grace Christian Academy, we believe that Jesus Christ is our Lord and Savior and that he commanded us to share the good news with all people (Matthew 28:19) and train children in the way they should go so that when they are old they do not depart from it (Proverbs 22:6).
How does GCA live out its purpose?
We achieve our purpose by integrating God?s Word into every aspect of our curriculum, creating a culture where scholars and staff see Christ in everything and follow his example while providing opportunities for scholars to grow in all areas of life.
What does GCA offer?
Our school offers a rigorous academic program to prepare scholars for high school. It includes the core subjects recognized by the public education system and courses in Bible history and doctrine. GCA is blessed with a diverse student body and committed to a low student-to-faculty ratio which gives scholars individual instruction and attention. We also provide co-curricular activities, such as athletics, fine arts, exploratory classes, and service projects to prepare students for all areas of life. Our graduates go on to thrive in both private and public schools, including Advanced Placement (AP) and International Baccalaureate (IB) programs.
At Grace Christian Academy, we start with "why" because it communicates the beliefs and core values that drive our ministry's mission and vision.
Mission
At Grace Christian Academy, we emphasize Christ in everything
and provide our scholars with a superior education, laying the
foundation for success in this life and the next.
Vision
We want our scholars to make a Christ-guided impact in this world.
We will always strive for excellence in Christian education and community outreach.
GCA IN THE NEWS